Ayn Rand Scholarship Essay 2013 Spike
In May 1981, I had earned my undergraduate degree magna cum laude from New York University, with a triple major in politics, economics, and history (with honors). To say I was stoked to have been accepted to the NYU doctoral program in politics, where I would go on in 1983, to earn a master's degree in political theory, and in 1988, a Ph.D. with distinction in political theory, philosophy, and methodology, is an understatement. I was positively ecstatic.
I had, by this time, laid out a path of professional goals that merged my passionate libertarian political convictions with a rigorous course of study that would include seminars and colloquia with scholars that only New York University could offer. I would study with such Austrian-school economists as Israel Kirzner, Mario Rizzo, Don Lavoie, and others, as well as leftist political and social theorists such as Bertell Ollman and Wolf Heydebrand. In this combustible intersection of ideas, there would emerge the seeds of what would become a life-long commitment to the development of a "dialectical libertarianism", and a trilogy of books---Marx, Hayek, and Utopia, Ayn Rand: The Russian Radical, and Total Freedom: Toward a Dialectical Libertarianism---that would articulate the foundations of that approach.
Alas, these scholarly goals were made all the more joyful to achieve because of so many individuals whose lives touched mine in ways that were fundamental both to my intellectual and personal growth as a human being.
One of these individuals was a guy named Michael Southern. It was September 1981, my first day as an NYU graduate student, when I walked into Professor Israel Kirzner's seminar on the "History of Economic Thought." Looking around the room, few seats were available, so I found myself sitting next to Michael. When Kirzner finished his first lecture, logically structured as one would expect from any esteemed student of the great Ludwig von Mises, I introduced myself to Michael. He seemed a little shy at first, but I think he was genuinely surprised by my friendliness and that unmistakable Brooklyn accent. We went to a local cafe and talked for a very long time. I got to know a lot about him in that first encounter.
I learned, for example, that he was two years older than me, almost to the day: I was born on February 17, 1960; he was born on February 23, 1958. I also learned that he hailed from Massachusetts, and was a rabid Boston Red Sox fan. Back then, that was almost a non-starter for me.
After all, I was and remain a New York Yankees fanatic. We jousted and dueled over the Curse of the Bambino, and argued about who really deserved the American League MVP for the 1978 baseball season: the Red Sox hot-hitting outfielder Jim Rice or the Yankee pitching ace, and Cy Young Award winner, Ron Guidry, who went 25-3, with a 1.74 ERA. In 1978, the Yankees were 14 1/2 games behind the Red Sox in July, and on the last day of the season, they found themselves in a tie for first place. And, I argued, no man was more valuable to that team than Guidry, who had pitched back-to-back two-hit shutouts against Boston down the stretch, and won the deciding extra 163rd game of the season, enabling the Yanks to advance to the AL Championship series against the Kansas City Royals, and ultimately to win their second straight World Series over the Los Angeles Dodgers. Michael was going on and on about Rice's hitting. Blah, blah, blah.
In any event, it wasn't Guidry's victory that was the most memorable aspect of that deciding game; it was a miraculous 3-run homer hit over Fenway Park's Green Monster by the Yankee shortstop Bucky "F*&%ing" Dent, as Michael put it, who had hit a measly four homers prior to this game throughout the entire season. But that homer lifted the Yanks ahead for good. I guess Michael was still a little bitter. For Dent, apparently, was as beloved by Boston fans as Bill "F*&%ing" Buckner, whose fielding error in Game Six of the 1986 World Series, ultimately allowed the New York Mets to win the trophy in Game Seven. Even this diehard Yankees fan reveled in Boston's loss that year! Oh was it fun locking horns with Michael on these issues.
Animated baseball disagreements aside, it was clear that Michael and I had a lot in common; we were both avid fans of Ayn Rand, devoted readers of Nathaniel Branden, extremely interested in politics and culture, lovers of film and of music from jazz to progressive rock. All he had to say was that he had seen my favorite jazz pianist Bill Evans perform live, and that he had fallen in love with the emotional depth of his music, and I just knew that there was something very special about this man.
Over time, our friendship deepened; he'd tell me about some trouble he was having with a girl he was dating, I'd tell him about my own dating woes; we talked about our families, our friends, our goals, our triumphs, and our tragedies. He had extraordinary qualities about him; he was perceptive, intelligent, gentle, kind, compassionate, and had a great sense of humor.
By holiday time in December, that sense of humor manifested itself on both sides of the baseball divide. Michael gifted me a Jim Rice T-shirt, which I own till this day, and I gifted him a Ron Guidry T-shirt. Such was the nature of our developing affection for one another.
He had taken a waiter's job at the Cheese Cellar on East 54th Street in Manhattan, which became a regular stop for me and my family. The waiter's service was terrific, I might add. As he got to know my jazz guitarist brother Carl and jazz vocalist sister-in-law Joanne, and saw them perform at so many jazz clubs in Manhattan, loving their music, he eventually offered to do a website for them (as he would eventually develop my own website---all for free).
But something was troubling him deeply, early in that first semester, as the class with Kirzner continued. I'm paraphrasing the conversation from memory, but it went something like this. He said to me: "I can see you coming from blocks away. You just have a way about you. It's in your walk. Your step. It's never timid, but it's not overbearing. It's just the walk of a man comfortable in his own body, walking purposefully to his destination, wherever that might be. The way you walk is a bit of an inspiration to me. I just don't walk that way. I don't feel that way inside."
My walk? Lord . . . I'd never even given a second thought to the way I walked. And here, my friend was telling me that there was something in my walk that inspired him, and that made him focus on the things that he felt he lacked. He had attended weekend Intensives in New York run by Nathaniel Branden and his wife Devers Branden, and felt that they had tapped into something that needed greater attention.
I was no professional, but I was becoming a very dear and trusted friend. I tried to help him through it, with long phone conversations into the wee hours, but he seemed stuck, unable to get through a term paper for Kirzner's class. It was then that he made a momentous decision that I figured spelled the end of a friendship; he decided he was too overwhelmed by the course, that something deeper was at work, and that he needed help. As he put it later in "My Years with Nathaniel Branden," a deeply personal essay written for The Journal of Ayn Rand Studies symposium, "Nathaniel Branden: His Work and Legacy":
For the third time, I'd finished reading The Psychology of Self-Esteem, Breaking Free, and The Disowned Self, all books by Nathaniel Branden. I placed my meager belongings in a backpack, went to the Registrar's Office at New York University's Graduate School of Arts and Sciences, officially withdrew from Graduate School, booked a flight, and in two days landed at Los Angeles International airport; I had come to be a client of Nathaniel Branden.
Prior to my time at NYU, I had finished an undergraduate degree with honors. I was thrilled when I got accepted to NYU, to study the history of economic thought under Israel Kirzner, who had been a student of Ludwig von Mises­---both being giants in the field to me. And as it all nicely fell into place, I froze.
I don't ever remember this happening to me before. While Kirzner's class was better than even I had anticipated, I couldn't write the paper for the course. I sat at home, or at the library with ten and twelve books piled up in front of me, but I couldn't begin. Anything I thought about writing seemed trivial after a little research. I began to panic so that the more I tried to push myself, the greater the feeling that whatever I produced wouldn't be enough. I tried everything I knew to get myself "back on track." I believed I had something to offer, but I was paralyzed, much like an actor might experience stage fright. I spoke with Kirzner, and he was kind and logical and gave me some suggestions, but I was too in awe of him to show just how lost I was in terms of generating a paper. It seemed an emotional block, not an intellectual one; how could I ask for his help for an emotional problem? I understood the coursework, and the books on his reading list. I just couldn't seem to create.
...
Sitting in an outdoor cafe in the Village I reached in my backpack for The Disowned Self. I ordered coffee, threw the waiter a gigantic tip so he'd leave me alone, lit a cigarette (you could do that back then), and read the entire book, slowly, making notes; the lights and noise of the West Village turned on around me as night fell.
The next day I headed for Los Angeles, wanting to resolve, heal, and grow. I was beginning to suspect that I had had a particularly difficult childhood, and had responded to it by shutting down huge parts of myself.
To my surprise, Michael and I never lost touch. He was in therapy with Nathaniel Branden, and making strides. Every so often, we'd speak, not so much about the details of his therapy, but more about how he was challenging himself to keep moving . . . forward. Sometimes a month would pass, or two, and he'd call, and it was as if the last conversation had occurred only an hour ago; we picked up where we left off, never missing a beat. And during this period, as I faced my own trials and tribulations---with everything from relationships to my health problems (an outgrowth of a congenital intestinal condition)---he was as present and tuned-in to me, as I was to him. This was never a one-way street; the friendship that I thought would be lost by distance, had intensified. And the feeling that he was a "brotha from another mutha" only deepened. It was clear that we loved one another as only brothers could---something that geographic distance did nothing to alter.
As Michael explained in that wonderful essay of his, he was able to work through so many of his problems; he credited Nathaniel Branden and Devers Branden with saving years of his life. He would become an intern for Branden and then an office manager at Branden's Biocentric Institute in Beverly Hills, California. He'd go back to school to earn a master of science in management from Lesley College and a master of science in information systems from Boston University. As a technology specialist, he did wonderful work for Fortune 500 companies.
Through all the years, our friendship only grew. He would go on to develop my website, and the original website of The Journal of Ayn Rand Studies. In fact, he was a member of the JARS family from its beginnings in 1999, as we unveiled the website on the day that our first issue was published. While I remained with NYU as a Visiting Scholar for twenty years (I guess you could say I bleed "violet"), he would travel the world. He was never so far away, however, that he didn't participate once or twice in my cyberseminars on "Dialectics and Liberty." Eventually he married, and even moved back to New York City for a while, living in the Bay Ridge section of Brooklyn.
There were bumps along the way---though never between us. His marriage didn't work out, his work took him out of New York again, and his interests, especially in the history of the Holocaust, took him to other countries. But again, geographic distance never seemed to interfere with our friendship. Eventually, he came back to the states, and his software expertise gave him many job opportunities, including business with a company in Detroit, Michigan, where he worked for several years.
Indeed, his software expertise was certainly highly valued by JARS; the two of us worked hard in 2015-2016 as he created a brand spanking-new website for the journal, which made its debut with the Nathaniel Branden symposium, to which he contributed that enormously revealing and enlightening essay.
In many ways, writing that essay was, for Michael, a catharsis of sorts; while it served the greater symposium's purpose of understanding the work and legacy of Branden, it also served as a profoundly personal statement of how Michael stood up courageously to the challenges he faced. It was a commitment to a life of promise, of so much more to come.
Immediately after the debut of the new JARS site and the publication of our Branden symposium, Michael began working on a prototype to finally revamp my website, which, he said, "embarrassed" him because he'd become so much more sophisticated in his software development. We had so many plans for so many projects.
But, of course, life always seemed to get in the way of smooth transitions. As my own health problems became more difficult to bear, he spent as many hours on the phone with me in 2016, as I had spent on the phone with him in 1981, except that now, we both knew each other so well that we could complete each other's sentences, anticipate each other's thoughts. Thirty-five-plus years will do that.
We last spoke in early September about the website and a few other issues; Lord knows, we still had our differences with regard to sports teams (though I was enough of a good sport to congratulate him back in 2004, when his Red Sox finally beat the Yankees, and went on to win their first World Series since 1918). We even had developed a few political differences. But nothing ever affected our mutual love, admiration, and respect for one another. When I'd call him on the phone, he'd answer "Chris!"---as if with an exclamation point. There was always joy in his voice when he heard mine on the other end of the phone. And if I needed to cry because of a slew of unending medical or personal problems, the gentility with which he treated me was just the medicine I needed.
We last corresponded on September 11th. A few days passed by, and I hadn't heard back from him, so I wrote him again. Still, no reply.
I figured he was busy or traveling, but it was unlike him not to reply to an email. So on the weekend of September 23rd, I called him on both his personal and business lines and left voice mail. It was comforting to hear his voice, even if it was automated, telling callers to leave a message. So I left messages. And still, no reply.
On Tuesday, September 26th, I got an email from his cousin, who lived in Waco, Texas, where Michael had been staying. She told me to give her a call. My heart dropped. I knew that this meant something had happened to Michael; maybe he was in a hospital. Maybe something worse. I called her immediately.
She told me that Michael had been pursuing new business in Detroit, a city where he had once worked for so many years.
And then she told me that his body was found at 8:30 a.m. on Tuesday, September 19th; he had been killed by gunshots. Police are investigating the crime as a homicide.
I have suffered many losses in my life. I lost my father suddenly to a massive coronary, when I was 12 years old. I lost my Uncle Sam, who was like a second father to me, in 1994, to prostate cancer. I lost my mother in 1995, before my first two books were published, after five years of being one of her primary care-givers, as she struggled with the ravages of lung cancer and the effects of chemotherapy and radiation. I've lost many loving friends and relatives over the years, in circumstances that were painful and difficult.
But absolutely nothing could have possibly prepared me for the grief that I felt upon hearing that one of my best friends in the whole wide world had just lost his life by a wanton act of brutality. I had the phone in my hands, tears streaming down my face, stunned, shocked, horrified, feeling literally destroyed. My heart had not been broken; it had felt as if it had been completely shattered. I still can't quite wrap my mind around this event.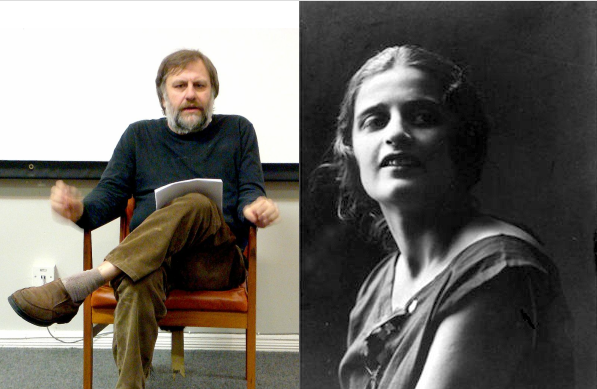 Images via Wikimedia Commons
The government shutdown and the raising of the debt ceiling -- such things are not usually grist for our cultural mill. But all of that changes when a cultural theorist pins the blame for Washington's dysfunction on the acolytes of a pseudo-philosopher. Writing in The Guardian last Friday, in simple, straightforward prose, Slovenia's favorite theorist Slavoj Žižek asks and answers a question in the title of his op-ed: "Who is responsible for the US shutdown? The same idiots responsible for the 2008 meltdown". And who are those "idiots," you might wonder? Let me spare you the suspense and jump you down to the last two paragraphs of his piece:
One of the weird consequences of the 2008 financial meltdown and the measures taken to counteract it (enormous sums of money to help banks) was the revival of the work of Ayn Rand, the closest one can get to an ideologist of the "greed is good" radical capitalism. The sales of her opus Atlas Shrugged exploded. According to some reports, there are already signs that the scenario described in Atlas Shrugged – the creative capitalists themselves going on strike – is coming to pass in the form of a populist right. However, this misreads the situation: what is effectively taking place today is almost the exact opposite. Most of the bailout money is going precisely to the Randian "titans", the bankers who failed in their "creative" schemes and thereby brought about the financial meltdown. It is not the "creative geniuses" who are now helping ordinary people, it is the ordinary people who are helping the failed "creative geniuses".

John Galt, the central character in Atlas Shrugged, is not named until near the end of the novel. Before his identity is revealed, the question is repeatedly asked, "Who is John Galt". Now we know precisely who he is: John Galt is the idiot responsible for the 2008 financial meltdown, and for the ongoing federal government shutdown in the US.
We're not saying it's the most trenchant analysis, but we do like to take note of intellectual dustups. Speaking of, did you miss the Chomsky-Žižek spat from the summer? It went four rounds. Round 1. Round 2. Round 3. Round 4. And ended in a draw.
via Dangerous Minds
Related Content:
Ayn Rand Adamantly Defends Her Atheism on The Phil Donahue Show (Circa 1979)
William F. Buckley Flogged Himself to Get Through Atlas Shrugged
Mike Wallace Interviews Ayn Rand (1959)